Eagle Eyes School for Ornithology Judges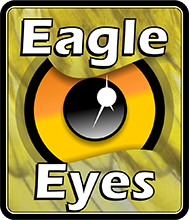 AGASSCOM is the first expert independent Confederative Institution for birds of the Agapornis genus. It was specially created to develop, increase and encourage an interest in Show Lovebirds breeding and judging techniques through the creation of the first judges school for ornithological shows.
The Eagle Eyes School for Ornithology Judges was conceived to prepare and educate judges both in the ethics regarding the wellbeing of birds and in training their visual capacity around bird observation and critique for exhibition purposes. Our main mission is to develop the accurate analytical observations of our students.
The judges' course will last from 02 to 04 years and can be taken by anyone anywhere in the world over the Internet, with chat discussions, Q&A forms, tests, photos, field work assignments and experiences in shows which are guided and coordinated at a distance.
Graduation course
2-4 years. During the course, the student is given the provisional title of Eagle Eyes Assistant Trainee status.
After being approved in the final 3 tests (oral, written and practical) he/she will be given the full title of Eagle Eyes Assistant Judge.
Graduations are not automatic, meaning that if during the course or in the final examination a student was unable to develop the appropriate level of eye accuracy, he/she will not be approved.
A final passing grade can only occur after a successfully completed in-attendance training session with written, oral and practical tests at least in three different occasions in any part of the world. All expenses for such trips are undertaken by the student.
A successful completion naturally depends on the student's ability and proven development results according to Eagle Eyes observation capability criteria.
All training, course, tests and final exams as well as practice exercises will be applied and supervised by Dr. Alessandro D'Angieri, an internationally renowned judge, Chairman and Senior Judge in Chief of the Eagle Eyes School for Ornithology Judges.