WAC – World Agapornis Confederation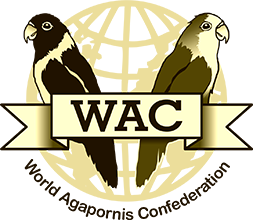 The World Agapornis Confederation – WAC is a registered trademark of AGASSCOM.
WAC is the symbol of our mission to reinstate the "old philosophy" of fraternal competition with technical and scientific know-how for shows and Lovebird breeding.
Its logo is a call to Lovebird enthusiasts around the world and to bring together clubs, federations, confederations, breeders and hobbyists alike to participate in a fascinating common work based on the experience of top breeders, judges and authors.
We are an enterprise that was conceived to educate and graduate breeders and judges so they can gain access to the best and updated information on mutations, genetics, show standards, nomenclatures and much more, while respecting and demonstrating appreciation for each country's regional rules.
We of WAC-AGASSCOM offer 4 categories of members for mutual help. By becoming a member, you support us so that we can further our work and help you keep updated and informed on standards, new mutations, organizing shows, judging activities and everything we can do regarding the Lovebirds culture anywhere in the world.
We can do even more for you! We also offer you the unique opportunity to become an International Judge of Lovebirds through our Eagle Eyes School for Ornithology Judges in a 2 to 4 year graduation program.
We are a three in one enterprise to better assist you! Join us!